Ballistic Match Technology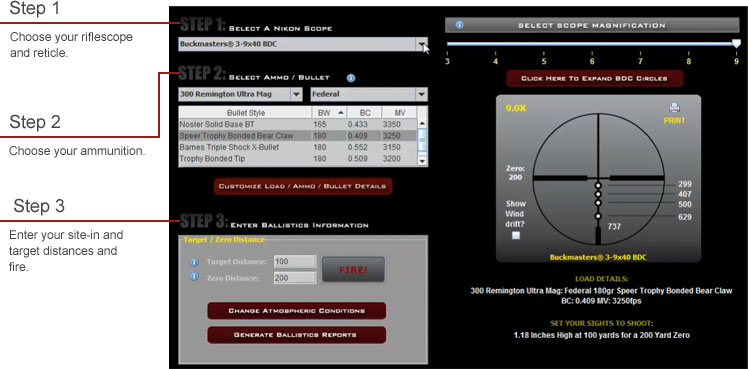 Unlock Your Firearm's Accuracy Potential!
Match your riflescope and reticle to virtually any ammunition. All you need is a rifle, a Nikon riflescope and a rangefinder—Spot On does all the work for you—showing you all the shot possibilities before you pull the trigger! With an expansive database Spot On provides you with the precise aiming points at your specified range for any Nikon BDC reticle riflescope and instant reference for sighting in other Nikon riflescopes with plex, mildot or standard crosshair reticles.
View iPhone Screenshots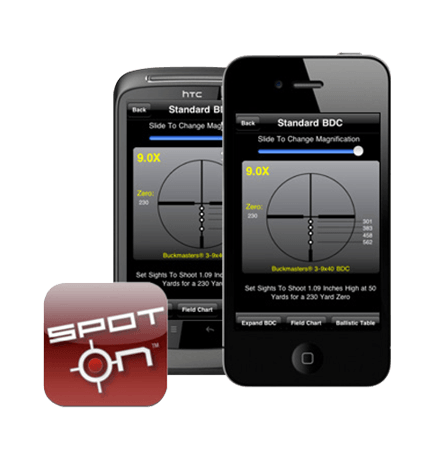 Mobile App
Spot On is now available for the iPhone®, iPad® and Android™ platforms. Download the app for FREE and ensure that the world's hottest ballistics calculator is there when you need it.
Nikon's Spot On Ballistic Wind Meter plugs directly into the headphone port found on almost all smart phones. The Spot On Wind Meter takes an accurate reading of the wind speed and direction and inputs the data directly into the Spot On Ballistic Match Technology application that every serious hunter and shooter should have on their smart phone. Now, the Spot On app not only provides the precise aiming point on your reticle to compensate for distance, but thanks to the new Spot On Wind Meter, you can also compensate for wind drift.
A majority of Nikon riflescopes are compatible with Nikon's Spot On Custom Turret Technology–offering the option for shooters to use the elevation turret to compensate for bullet drop and make accurate long-range shots holding dead-on the crosshair. Each Spot On Custom Turret is personalized for an individual shooter based on ballistic information he or she enters on the online ordering page on NikonSportOptics.com. Select your ammunition, riflescope, typical atmospheric conditions and much more to create your own uniquely calibrated turret that is sent to you for easy installation.