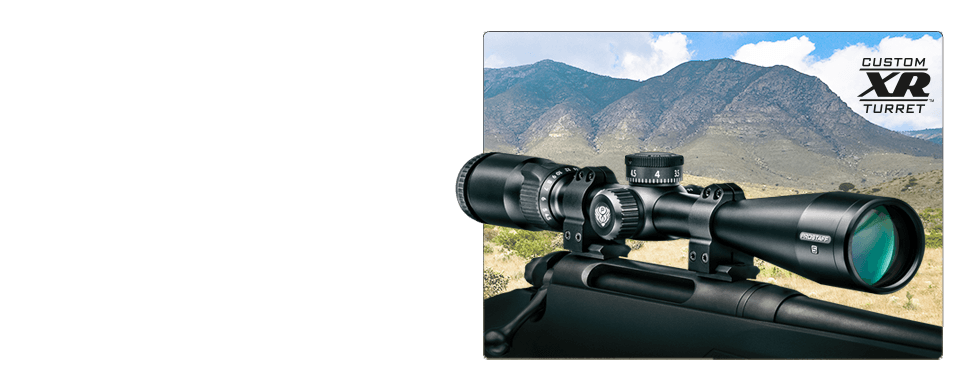 Nikon Custom XR Turret riflescopes allow you to custom match the distances inscribed on the elevation dial to the specific ballistics of your cartridge, load and environmental conditions.
This made-to-order elevation turret dial replaces the factory MOA turret that comes with your Nikon Custom XR Turret riflescope. As a result, you can dial-in your shooting range and hold your crosshair directly on your target for every shot.
The purchase of one of these riflescopes entitles you to order one free custom engraved turret from Nikon. You can also order additional turrets to match additional loads, velocities or extreme environmental factors.

PROSTAFF 5 Custom XR Turret riflescopes bring dial-in performance to the PROSTAFF family of optics. There are three different magnifications to choose from and each one has a Nikoplex reticle, 4x zoom ratio, a quick focus eyepiece and Nikon's Fully-Multicoated optical system.

Thanks to Nikon's Ultra ClearCoat® Optical System, MONARCH 3 Custom XR Turret riflescopes offer superior light transmission – especially during those peak low-light hunting hours near dawn and dusk. There are three different Custom XR Turret models to choose from, each with a Nikoplex reticle, so find the magnification you like best and dial-in your next shot with a MONARCH 3!

The MONARCH 7 Custom XR Turrets models are truly the flagship of the Nikon line. Each features a 30mm main body tube, glass etched reticle and side focus parallax adjustment. Not only are they Custom XR Turret compatible, they also feature Nikon's BDC reticle. This dual ballistic compensation system gives you the option to either dial-in the distance on the crosshair or utilize the holdover points on the Spot On optimized BDC reticle.

This tutorial video explains how Nikon's Custom XR Turrets can help you dial-in your distance to knock down those long-range shots. Learn how to order the turrets online and install them onto your Nikon riflescope.