View this image

View this image

View this image

View this image

View this image

View this image
Phase-correction-coated roof prisms

High-reflective silver alloy prism coating

Turn-and-slide rubber eyecups

Waterproof and fogproof with O-ring seals and nitrogen gas

Lead and arsenic free Eco-glass

Realtree APG™ Finish
Product Details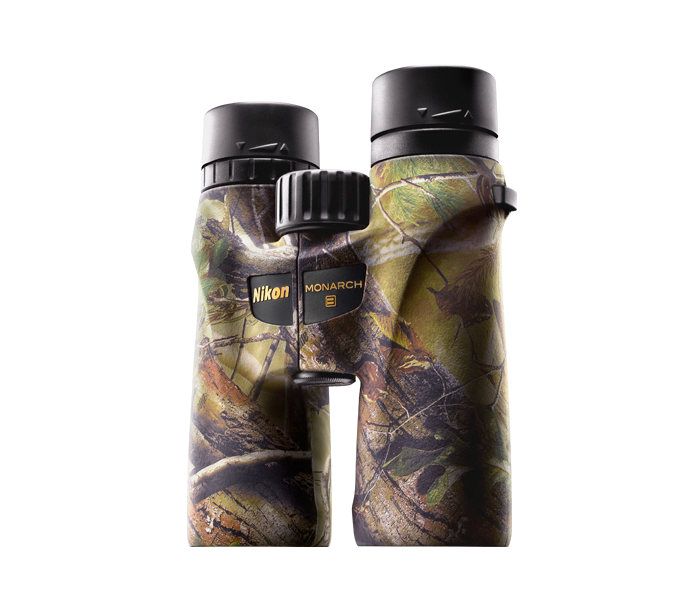 Perfection In A Compact, Rugged Design
With its legendary MONARCH bloodlines and enhanced optical system—the MONARCH 3 can maximize every hour you spend hunting—with incredibly bright, high-resolution views from the first rays of light until the very last. Now available wrapped in Realtree APG™ camo finish, these binoculars are designed for a lifetime of tough hunts with multi-click, turn-and-slide rubber eyecups, long eye relief and a lightweight and rugged, yet sleek and comfortable ATB body.
Aspherical Multicoated Eco-Glass Lenses
The sophisticated coating Nikon applies to MONARCH 3 binoculars goes far beyond conventional ones. Multilayer coatings, which provide an even, higher light transmittance across the entire visible light spectrum, are applied to all of the lens and prism surfaces that transmit light. This minimizes the loss of light due to reflection, thereby ensuring a more natural, clearer view. The technique has been perfected by Nikon and provides almost the same brightness through the binoculars' prisms as that perceived by the naked eye.
Phase-Correction High Reflective Silver-Alloy Prism Multicoatings
MONARCH 3 binoculars deliver, high-contrast images that display accurate color reproduction.
Smooth Central Focus Knob
Easily bring things into focus with this comfortable and ergonomic design.
Lightweight Slim Design
MONARCH 3 binoculars provide excellent ergonomics, strength, and ruggedness in a package that is comfortable to carry and use all day long.
Waterproof/Fogproof
Nitrogen filled and O-ring sealed for confidence under any conditions.
Long Eye Relief
Nikon has manufactured the MONARCH 3 binoculars, as well as many other of their optics, with a high-eyepoint design. This provides a clear field of view for everyone even with sufficient space between the user's face and the binoculars' eyecups. This delivers a full field of view through the binoculars even when the user is wearing eyeglasses.
Durable Rubber-Armored Coating
MONARCH 3 binoculars are built to handle any environment. No matter what the weather conditions may be, you will always have a sure, non-slip grip on your binoculars, making them one piece of equipment you can always count on to perform.
Multi-Setting Click Stop Eyecups
Allows a custom fit to your eye so there won't be any irritation after long periods of use in the field.
LCD, Video and Photo Gallery images are for illustrative purposes only.
Tech Specs
Focusing System

Magnification

Objective Diameter

Angular Field of View (Real)

Angular Field of View (Apparent)

FOV at 1000 yds

Wide FOV

Close Focus Distance

Exit Pupil

Relative Brightness

Eye Relief

Size (Length x Width)

Weight

Phase Coating

Waterproof/Fogproof

Prism