World's first Fieldscope featuring Nikon's lens-shift type VR (Vibration Reduction) system
EDG VR greatly reduces external vibrations caused by wind and the operational vibrations for a superlative viewing experience
Combining Nikon's sophisticated optical technologies with extreme VR precision has resulted in an optical masterpiece that keeps your viewing world still, so you can enjoy the minutest detail
Product Details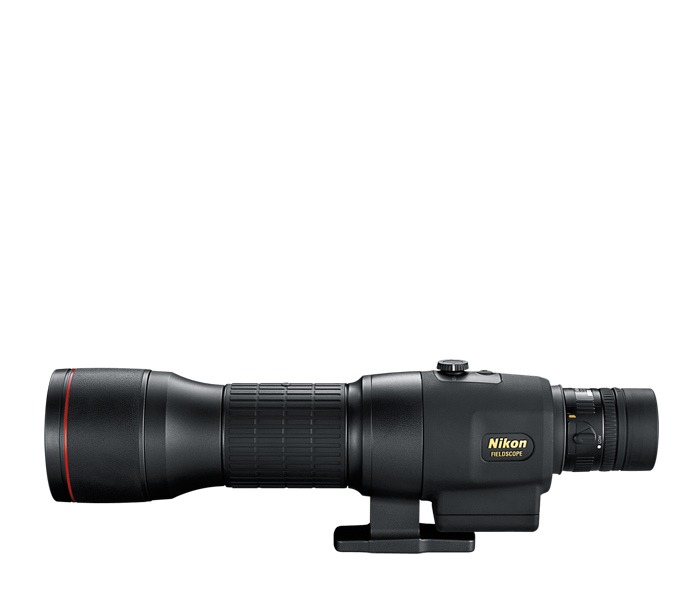 Make the World Stand Still for Your Enjoyment
Combining Nikon's sophisticated optical technologies with extreme VR (Vibration Reduction) precision has resulted in an optical masterpiece that keeps your viewing world still so you can enjoy the minutest details. With Nikon's superior chromatic-aberration compensation system of ED glass elements with advanced apochromat, field-flattener lens system, advanced multilayer lens and prism coatings and Nikon's original VR system, the new EDG VR 85 is truly a one of a kind Fieldscope for optics connoisseurs and photographers looking for maximum focal length.
Observe detail like never before
EDG VR (Vibration Reduction) greatly reduces external vibrations caused by wind and the operational vibrations occurring during focusing, panning and tilting on a tripod for a superlative viewing experience. For the first time in the world, Nikon incorporates its lens-shift type VR (Vibration Reduction) system—based on technologies developed for NIKKOR VR lenses—into an EDG Fieldscope.
EDG optical quality at its finest
This system uses two independent Angular Velocity sensors to detect pitching (vertical movement) and yawing (horizontal movement). Both sensors then detect diagonal movements. Upon the detection of movement, the sensors then provide instructions to the two Voice Coil Motors (VCM) that command and control the Vibration Reduction optical system to eliminate the shake or blurring. These sensors are capable of detecting movement every 1/1000 second.
Legendary glass for legendary views
Nikon's ED (Extra-low Dispersion) glass combines precision with technology for a sharper, clearer and more brilliant field of view. Multilayer coatings on the lenses give bright detailed views, even in low-light conditions.
Protection against demanding elements
EDG VR Fieldscopes are designed to withstand the harshest elements. The body and eyepieces are sealed for superior waterproofing performance and filled with nitrogen gas to prevent fogging and condensation due to extreme temperature change.
Capture a world previously beyond eyes' reach
Capture breathtaking moments at great distances and with great detail. Match up the EDG VR 85 with the optional Nikon FSA-L2 attachment and you can quickly and easily connect to your Nikon D-SLR camera for comfortable shooting and stunning photos and video. The FSA-L2 adapter provides a 3.5x zoom capable of delivering a focal length range from 500mm to 1,750mm (FX Format) or 750mm to 2,625mm (DX Format) with either Metered Manual or Aperture-Priority Auto Mode—previously unheard of magnification in the world of digital photography.
Engineered for simplicity and efficiency
Turning the EDG VR system on is easy—simply turn the VR Lock knob to On mode and press the power button. The green LED indicates that the VR is on. When transporting the EDG VR, turn the knob to the Lock position to mechanically secure the VR optical system for safe transportation.
Power to keep you moving
Four AA alkaline batteries power the EDG VR Fieldscope for an incredible 17 hours†††. Auto Power Off will conserve power and turn the VR system off after 30 minutes. Should the batteries become exhausted and replacements unavailable in the field, the EDG VR can also be used without the VR and function like a standard Fieldscope.
LCD, Video and Photo Gallery images are for illustrative purposes only.
Tech Specs
Magnification

Objective Diameter

Close Focus Distance

Relative Brightness

Eye Relief

Size (Length x Width)

Weight

Waterproof/Fogproof